Who Is America? 1x5
Episode 5
Who Is America? Episode 5 Watch Online
Who Is America? Episode Summery:
Rick Sherman goes to the Heart Nightclub in Miami, Florida and meets with nightclub promoter/DJ manager Jake Inphamous to discuss electronic dance music that Sherman has created while in prison. Two days later, Inphamous reaches back out to Sherman, now using the stage name DJ Solitary, and takes him to the SWAY Nightclub in Fort Lauderdale, Florida to debut his music. Billy Wayne Ruddick Jr., PhD interviews former Trump campaign manager Corey Lewandowski. They discuss the president's stance on racial issues, Ruddick explains some of his conspiracy theories, and the president's attitudes towards women are explored. Gio Monaldo conducts a photoshoot with internet entrepreneur Mahbod Moghadam, one of the founders of Genius. Moghadam agrees to be photoshopped into pictures appearing to be feeding starving African children. OMGWhizzBoyOMG! discusses Antifa with Milwaukee County sheriff David Clarke while they unbox Shopkins. Erran Morad meets with Youth Shooters of America founder Dan Roberts and teaches him how to survive terrorist attacks. His demonstrations include speaking at a high volume, throwing babies into trash cans to neutralize suicide bomber infants, and halting a beheading by biting an attacker on the penis, using a strap-on dildo to illustrate the technique.
Who Is America? Season Summery:
Billy Wayne Ruddick Jr., PhD interviews Senator Bernie Sanders. Dr. Nira Cain-N'Degeocello interviews Jane Page Thompson, a South Carolina Republican delegate who cast her vote for Donald Trump during the 2016 Republican National Convention, and her husband Mark. Rick Sherman sits down with Christy, a fine art consultant in Laguna Beach, California, and attempts to convince her to sell his artwork. Erran Morad sits down with various conservatives including Philip Van Cleave, gun rights advocate and the president of the Virginia Citizens Defense League, Larry Pratt, executive director emeritus for the lobbying group Gun Owners of America, Matt Gaetz, the current U.S. Representative for Florida's 1st congressional district, and Trent Lott, the former U.S. Senate Majority Leader from Mississippi, in order to convince them to support his proposal of arming children ages 3 to 16 in order to prevent school shootings. Morad produces a video featuring the aforementioned people he talked to, in addition to Dana Rohrabacher, Joe Wilson, and Joe Walsh. Each openly advocates for his proposal, with the exception of Gaetz.
Who Is America? Tv Summery:
A satirical half-hour series from comedian Sacha Baron Cohen exploring the diverse individuals, from the infamous to the unknown across the political and cultural spectrum, who populate our unique nation.
Click here to watch more TV Shows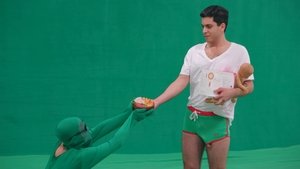 Aug. 12, 2018