Who Is America? 1x6
Episode 6
Who Is America? Episode 6 Watch Online
Who Is America? Episode Summery:
Billy Wayne Ruddick Jr., PhD interviews former presidential candidate Jill Stein and discusses climate change and global warming. He then interviews former Governor of Vermont Howard Dean and discusses his theory that Hillary Clinton is secretly a man. Erran Morad teaches reality personality Gretchen Rossi and her husband Slade Smiley how to protect themselves from home invasion. Dr. Nira Cain-N'Degeocello travels to the Las Vegas Enlightenment Center and meets with spiritual healer Ataana Badilli. Cain-N'Degeocello discusses his plan to "give birth" to a baby doll from his rectum as a means empathizing with his partner whom he recently impregnated. Ruddick interviews the Director of the National Institutes of Health Dr. Francis Collins and discusses his theory that agrochemical practices have turned people transgender. He also discusses his theory that AIDS is a myth and explains his experiment involving sharing a needle with an HIV-positive homeless man. In preparation of opening his own restaurant, Rick Sherman serves a three course meal to food critic Bill Jilla featuring prison-inspired cuisine, with one dish purportedly including the flesh of a Chinese dissident. In a mid-credits segment, OMGWhizzBoyOMG! discusses gun control with former Governor of Arizona Jan Brewer while they unbox Shopkins.
Who Is America? Season Summery:
Billy Wayne Ruddick Jr., PhD interviews Senator Bernie Sanders. Dr. Nira Cain-N'Degeocello interviews Jane Page Thompson, a South Carolina Republican delegate who cast her vote for Donald Trump during the 2016 Republican National Convention, and her husband Mark. Rick Sherman sits down with Christy, a fine art consultant in Laguna Beach, California, and attempts to convince her to sell his artwork. Erran Morad sits down with various conservatives including Philip Van Cleave, gun rights advocate and the president of the Virginia Citizens Defense League, Larry Pratt, executive director emeritus for the lobbying group Gun Owners of America, Matt Gaetz, the current U.S. Representative for Florida's 1st congressional district, and Trent Lott, the former U.S. Senate Majority Leader from Mississippi, in order to convince them to support his proposal of arming children ages 3 to 16 in order to prevent school shootings. Morad produces a video featuring the aforementioned people he talked to, in addition to Dana Rohrabacher, Joe Wilson, and Joe Walsh. Each openly advocates for his proposal, with the exception of Gaetz.
Who Is America? Tv Summery:
A satirical half-hour series from comedian Sacha Baron Cohen exploring the diverse individuals, from the infamous to the unknown across the political and cultural spectrum, who populate our unique nation.
Click here to watch more TV Shows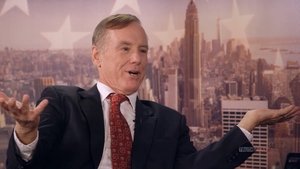 Aug. 19, 2018